Meet the Winemaker: Natalie Christensen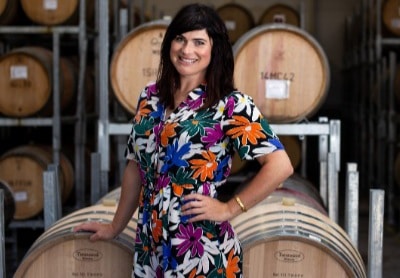 Natalie Christensen
Yealands Wines
Yealands Wines Chief Winemaker Natalie Christensen, Master of Science (first-class honors), along with a Graduate Diploma in Oenology from the Eastern Institute of Technology in Hawke's Bay, where she graduated top in her year. Bachelor of Music from Canterbury University. Classically trained double bass player.
Named by The Drinks Business as one of the World's Most Influential Women in Wine in 2018, Natalie is a gifted winemaker with well over a decade of winemaking experience under her ever-colourful belt. With a Masters of Science degree, a Bachelor of Music from Canterbury University, a Graduate Diploma in Oenology, as well as being a classically trained double bass player, Natalie is far from being your average winemaker. Her ingenious blend of science and music facilitates the creation of fine wines that are both technically excellent and artistically exciting.
For Natalie, there is a strong link between music and wine. She says that everyone in a room can be listening to a piece of music and each individual will be having a completely different experience. It's the same with wine. Although a group may share a bottle of wine, their experience will be their own, unique discovery.
Natalie became part of the fulltime Yealands winemaking team in 2015 having already worked for other notable New Zealand wineries Saint Clair Family Estate and Matahiwi Estate. Prior to joining Yealands, she was Winemaker at La Cana in Rias Baixas, Spain making albariño for the Jorge Ordonez group. She became Yealands' Chief Winemaker at the end of 2018.
Not many Nairobi wine retailers stock the Yealands Wines and stock a range of other wines and spirits. The Wine Box, however, sells alcohol online in Kenya, as well as a range of fine wines, including these prestigious New Zealand wines. So be sure to visit the website for access to the incredible Yealands range.